Here at Rockhill Car Wash, we offer "Freedom of Choice" with a variety of services made available to you 24 hours a day, 7 days a week!
1 Touch Free Automatic Bay

We offer RAIN-X and Wheel Spray as options
Undercarriage Spray on ALL Washes
Spot Free Rinse on ALL Washes

1 Soft Touch Automatic Bay

Undercarriage Spray on ALL Washes
Spot Free Rinse on ALL Washes

2 Self Serve Bays
1 "SUPER" Self Serve Bay
1 Air Shammee

Great for cars and motorcycles

3 SUPER Vacuums

Choose between two nozzles just by flipping a lever. The black hose has the Crevice tool and the red hose has a standard vacuum nozzle.

1 Shampoo/Spot Remover Vacuum
1 Vending Machine
We accept Credit Cards and the Rockhill Car Wash cards in ALL of our bays!
Rockhill is proud to provide their customers with the convenience of the WashCard System. WashCard is the easy way to wash your car without the hassle of exact change or quarters. Simply select your desired wash, and swipe a card through the Card reader.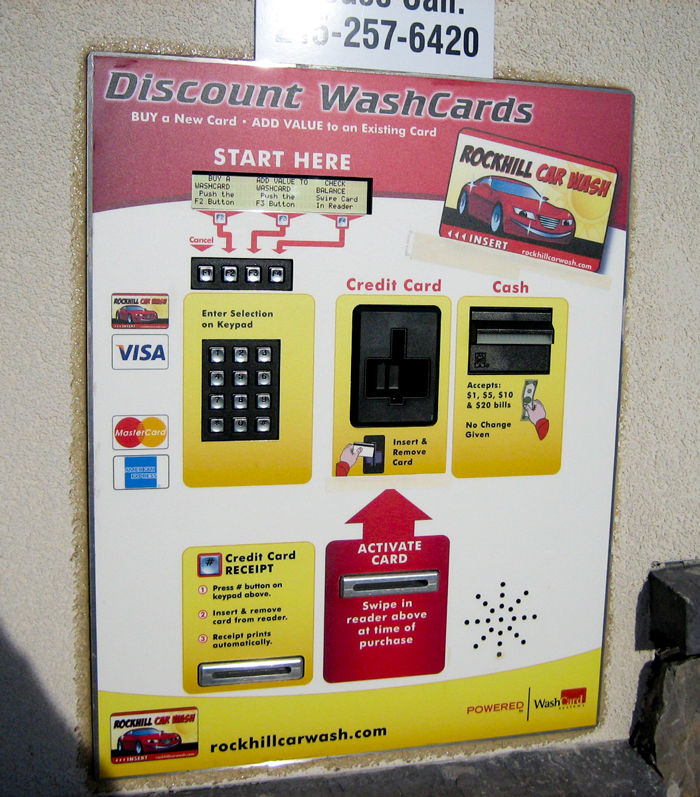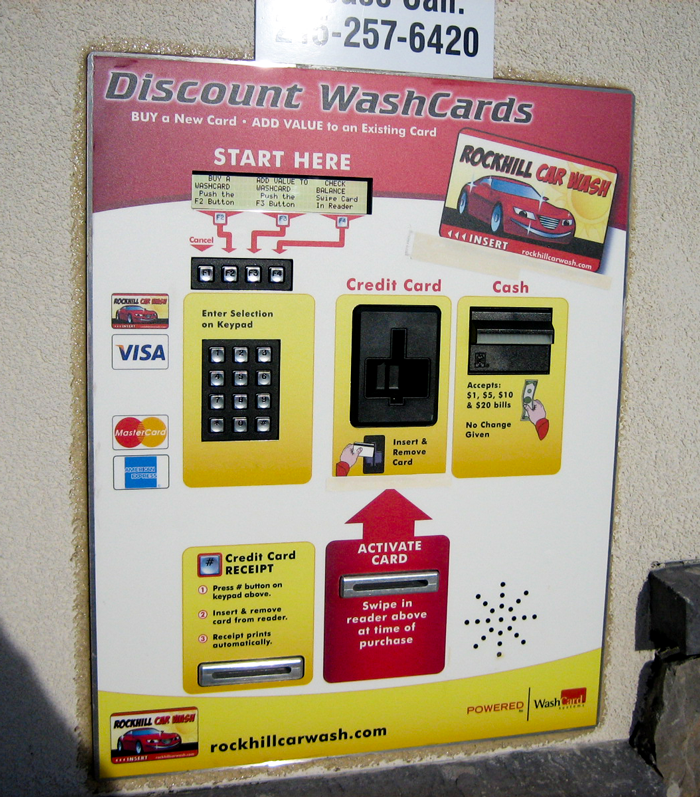 Onsite Loyalty/Gift Card Dispenser and Recharge Station
The more you buy, the more you earn! Minimally get a 10% INSTANT BONUS when you purchase or recharge a loyalty card at our dispenser! Press F2 to Buy a WashCard and follow the on screen instructions to complete the purchase. Once the card is dispensed from the machine, don't forget to swipe the card in the reader to activate the card at the time of purchase– thank you for choosing Rockhill for all your washing needs! You can also purchase our cards online.  See Storefront tab for more detail.